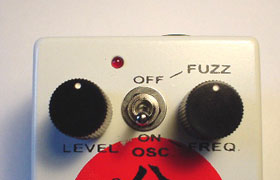 Controls from the left ; "LEVEL" and "FUZZ/FREQ", there is an "OSC" switch between "LEVEL" and "FUZZ/FREQ" controls. "LEVEL" controls the overall output level when the effect is on. "OSC" switches the oscillator on or off. "FUZZ/FREQ" controls the distortion level when the "OSC." is off and the pitch of the oscillator when the "OSC." is on.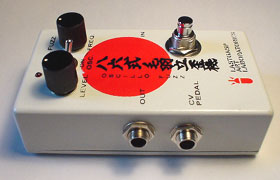 On the left side, there are jacks for the OUTPUT and a CV PEDAL.. The CV PEDAL jack connects with the CV pedal. If you have a CV pedal, you can control the "FUZZ / FREQ." with your foot.
*The most popular name for the "CV pedal" (Control Voltage pedal) is "expression pedal". Unfortunately, we have not made our own yet. Some manufacturers make "expression pedals" and almost all of them will be able to connect to our pedals, but the effect will vary with different types. We recommend the "ROLAND EV-5".