The controls; "LEVEL" and "FREQ", there is a "RANGE" switch on top of controls. "LEVEL" controls the overall output level when the effect is on. "FREQ" controls the frequency of the internal oscillator. "RANGE" selects the frequency range. H produces a high frequency ring modulator sound. L produces a low frequency tremolo-like sound.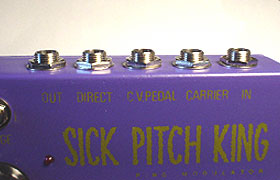 The Jacks on top, right to IN, CARRIER, CVPEDAL, DIRECT and OUT.
SPK has two inputs: one for an electronic music device ("IN") and another input jack for a carrier signal that can be used instead of the internal oscillator.. The "RANGE", "FREQ", "CV PEDAL" are disabled during the carrier signal jack input.